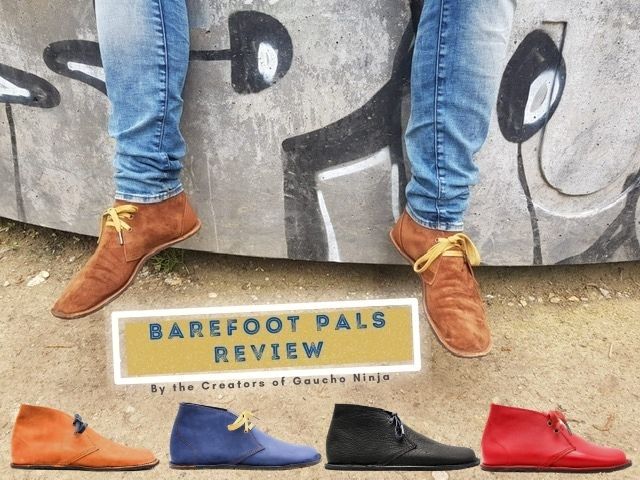 Gaucho Ninja is one of my favorite barefoot shoe brands, so I certainly perked up when I heard the makers of that company were beginning a startup called Barefoot Pals. In today's post, I want to introduce you to Barefoot Pals and share my own experience wearing them so you might feel inspired to try them yourself!
What Are Barefoot Pals?
As I touched on in the intro, the team behind Gaucho Ninja recently started a new barefoot shoe brand called Barefoot Pals. If you're not familiar, Gaucho Ninja was created in 2015 by Lisandro Serra Delmar. He was inspired by Japanese martial arts and Argentinian cowboys aka gauchos, which is quite a unique mix.
Delmar himself is from Spain, but he spent most of his life in Argentina. He's made leather goods since 2007. He partnered in 2018 with Nada Meredith, a UK-based craftswoman who specializes in leather. The Gaucho Ninja team expanded from there. 
That brings us to Barefoot Pals. According to their website, Barefoot Pals are "so far the closest footwear to wearing nothing" and are "a combination of fine materials, classic look, and super flexible design."
The same passion and dedication to quality that you know and love the Gaucho Ninja shoes for is evident in every pair of Barefoot Pals. These shoes are hand-crafted in Spain, Delmar's home. 
Barefoot Pals Features
Do you want to get your hands (or well, your feet) on a pair of Barefoot Pals? Here are the features of these new shoes that are making a splash in the barefoot world. 
Biodegradable Leather
The leather used to produce each pair of Barefoot Pals is ethically sourced and biodegradable. Rather than contribute to the waste piles at landfills that can stick around for decades, sometimes even hundreds or thousands of years, each pair of Barefoot Pals will begin breaking down faster. 
Vibram Superflex Soles
Vibram is the premier name in barefoot shoe soles, so it's no surprise that Barefoot Pals feature the brand's Superflex soles. These alga soles include Morflex sheets for the ultimate in durability and dependability. The thinness of the sole provides awesome groundfeel while never sacrificing support. 
Durable Laces
Each set of laces in your pair of Barefoot Pals is produced in London, which is also where these barefoot shoes are designed. The formal-style shoes feature crisscrossing laces that you can tie into a standard bow and then be on your way.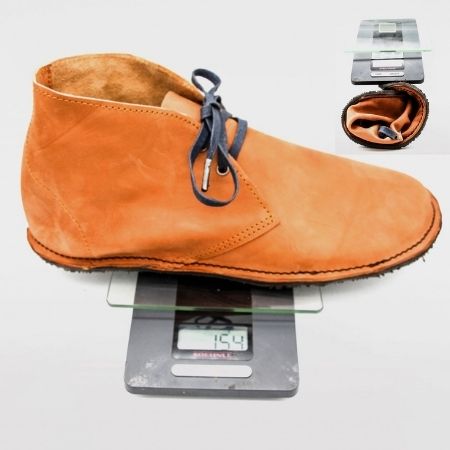 Eco-Friendly
Like Gaucho Ninja is dedicated to sustainability, so too is the Barefoot Pals brand. I mentioned above how the shoes are made of biodegradable leather, but that's not the only green feature. The shoes are boxed in eco-conscious packaging. They're also resolable so you can give them new life by upgrading their soles. 
Zero-Drop Heel
As I talked about in my Luna Sandals review, a pair of barefoot shoes is only truly barefoot if it features a zero-drop heel. Despite that your feet are completely covered in Barefoot Pals shoes, you'll still feel like you're walking barefoot thanks to the zero-drop heel.
From the soft firmness of sand to the hardness of asphalt and the slickness of grass, you'll be able to feel it all underneath your feet. Even better is that your feet are supported by Vibram soles! 
Flexible
Another trademark of barefoot shoes is how flexible they are. The more movable your shoes, the freer your toes can feel. You'll want to flex and bend them all day, and who can blame you? The Barefoot Pals roll up for easy, convenient portability whether you're wearing them to work, at home, or even when taking a walk around town. 
Lots of Colors 
Do you like colors? So do I! Barefoot Pals are currently available in a fun variety of colors, including black, blue, red, and Desert Sand, which is tannish orange. 
My Experience in Barefoot Pals
I proudly own a pair of Barefoot Pals, and in this section, I want to tell you about my experience wearing these shoes.
I found the Barefoot Pals very enjoyable to wear since they're so lightweight. They almost feel like a second skin but in the best way possible. Rather than a loafer, I'd call the Barefoot Pals more of a stealth slipper.
Why? It's a combination of that lightweight quality and the thinness of the shoes. 
Does it get better than feeling like you're walking around in slippers but looking like you're wearing upscale loafers? I don't think so!
In fact, I often surprise other barefoot shoe wearers by telling them that my Barefoot Pals are indeed barefoot shoes. They say the shoes are very fancy and beautiful and then do a double-take!
I personally have a high instep and medium-wide feet and I found these shoes very suitable for my foot type. 
Here's something to consider if you have very wide feet. The material and model of the Barefoot Pals are flexible enough for your wide feet, but you might want to size up one size larger than what you normally buy. I'd also tell you to consider extra heel support for better grip. 
The reason I suggest sizing up is that the pressure on the outside of the shoe is less noticeable that way. 
Sometimes, you can see the shape of the foot through the shoes if the shoe upper is made of thin material. With a sneaker, that's not such a big deal, but with a fancier-looking shoe like the Barefoot Pals, it's worth considering sizing up for the aesthetics alone. 
I'd call the Barefoot Pals a unique addition to your shoe wardrobe. The stylish design and fun colors will jazz up any outfit in your closet. Plus, with their barefoot style and priority towards comfort, you'll gladly look forward to wearing these shoes.
I'd recommend the Barefoot Pals for travelers who are looking for formal-looking barefoot shoes for those special occasions. The included carrying bag makes it easy to tote these shoes around.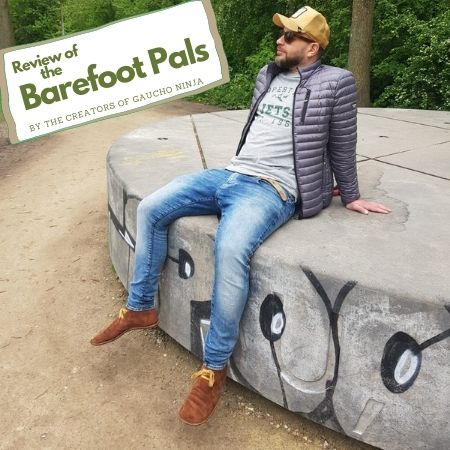 Should You Wear Barefoot Pals Outdoors? 
Since Barefoot Pals utilize several types of leather in their composition, I'm sure you're wondering as I was whether they're suitable for outdoor use. I decided to contact Gaucho Ninja and ask because who better than the source, right?
Gaucho Ninja told me that yes, you can wear Barefoot Pals outside, "especially on urban environments and in dry weather." They mentioned that "we don't recommend wearing them in mud, as the sole won't have enough traction like a hiking boot and the materials like Nubuck and suede (in some limited-edition Pals) are very delicate and can be damaged by it." 
Here's what they said about the leathers used to make the Barefoot Pals. "Leather is a great material as it's a skin with the epidermis and the dermis, all the fibers working together. It can be conditioned to keep its flexible properties and it will age with time to a beautiful sheen. 
Suede and Nubuck are very fine materials, they are skins tanned with the epidermis partially (Nubuck) or completely (suede) removed. They resemble silk, a very delicate and elegant noble material."
Can You Wear Barefoot Pals All Day Every Day?
Once you try on a pair of Barefoot Pals, you might not want to take them off. I certainly can't blame you for that, but it does beg the question, can you wear Barefoot Pals daily all day long?
Gaucho Ninja says that "Barefoot Pals are ideal for everyday use. In fact, they can promote a lot of health benefits by wearing them during work at the office, commuting, hospitals or care centers, shopkeepers, restaurants. People standing on their feet all day long can enjoy the Pals knowing that a Pal is looking after their feet."
I agree that Barefoot Pals are suitable for wearing every day, but they might be too nice for that. I wear them indoors and on special occasions so they'll last longer. 
Conclusion 
Barefoot Pals are a new style of barefoot shoe from the makers of Gaucho Ninja. These laced loafers feature Nubuck, leather and suede and come in a range of colors. They fit like a second skin and are lightweight enough that barefoot shoe lovers should adore them. I hope you're inclined to try Barefoot Pals yourself!